Crowns and Bridges at The Dental Junction
At The Dental Junction, you can feel confident that we offer high-quality treatments using state-of-the-art techniques and equipment. If you have a tooth that is damaged by wear, trauma or decay, a crown may be the most suitable way to restore your oral health. You may also be missing one tooth or multiple teeth. If so, we can provide you with a durable dental bridge.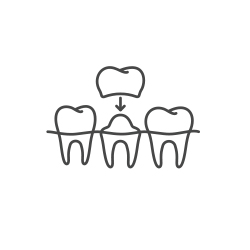 Superior Coverage With Crowns
A crown is a cap that covers the entire visible portion of your tooth right to the gumline. It can preserve a tooth that has been compromised by structural damage such as cracks or cavities. A crown is also recommended after a root canal treatment or if you have a dental implant that is meant to replace a single tooth.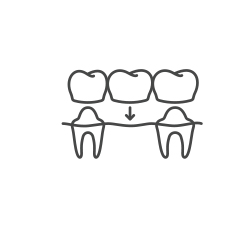 Bridges to Replace Missing Teeth
A bridge provides you with an alternative to a partial denture. It replaces one missing tooth or multiple missing teeth. It's made up of a row of crowns. The ones on the end are attached to the teeth that neighbour the gap. The remaining artificial teeth are suspended in the open space, restoring your smile and the full function of your teeth.
Daily Maintenance
Though a crown or bridge is not a real tooth, it should be treated as such. You'll need to floss around your crown or bridge to remove the plaque that builds up. They can also be brushed just like your regular teeth. Gum disease can still strike around your restoration. Decay may still occur on the teeth around your crown or bridge if not properly cared for.
What to Expect When Getting a Crown or Bridge
Two visits are required to have your crown or bridge. At your first visit, we'll prepare the tooth that is to receive a crown or the teeth that surround the gap. We'll take impressions and send them to our local laboratory, where an experienced technician creates your crown or bridge.
You'll return about two weeks later to have your temporary crown or bridge removed and have your fixed restoration put in place.
Discover What's Right for You
With our comprehensive solutions, we'll meet your smile needs. Contact us today to learn more about crowns and bridges Noosa Heads or to book your appointment!
CONTACT US
* Any surgical or invasive procedure carries risks. Before proceeding, you should seek a second opinion from an appropriately qualified health practitioner.

Dental Crowns and Bridges Noosa Heads, Noosaville, Sunshine Beach, Sunrise Beach QLD | (07) 5473 5117