Fillings at The Dental Junction
Tooth decay is a common oral health concern. If you have a cavity, it is a bacterial infection that can spread to other teeth. You want to preserve your teeth, which makes it essential that you have any decay treated early on. Our minimally invasive white fillings are the perfect choice.
Our composite fillings are matched to the shade of your natural teeth, making them virtually invisible. Though silver fillings used to be the standard, they are now rarely used thanks to the ease and aesthetics of white fillings.
Do You Need a Filling?
You might not notice tooth decay until it becomes severe. Your regular dental checkups every six months are important to recognise any tooth decay early on so that you won't experience pain or other symptoms.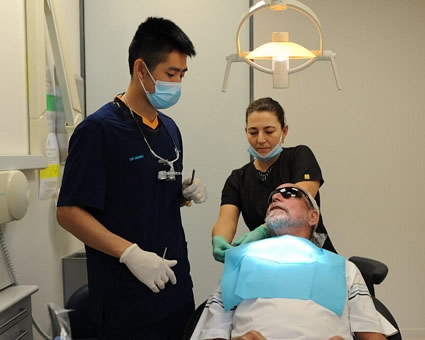 The signs that you may have tooth decay include:
Sensitive teeth
Pain when chewing
A dull or sharp ache in a tooth
Discolouration
Food that is caught inside or between teeth
Rough edges of a tooth that can be felt with your tongue
Floss that catches around a tooth
Areas of bleeding gums
You can find out whether you have decay at an examination with our team. We'll take X-rays to identify whether a cavity is present, looking at the damage in the tooth structure that can't otherwise be seen. We can assess the decay and recommend the filling that is right for you.
Be Proactive About Your Dental Care
The best way to make sure that your smile stays healthy is to keep your regular hygiene appointments with us. At these visits, we'll evaluate your teeth and gums to make sure they're in great shape. If needed, we can apply fillings Noosa Heads that will fit seamlessly into your smile. Contact our friendly team today to book your first appointment!
CONTACT US
* Any surgical or invasive procedure carries risks. Before proceeding, you should seek a second opinion from an appropriately qualified health practitioner.

Dental Fillings Noosa Heads, Noosaville, Sunshine Beach, Sunrise Beach  QLD | (07) 5473 5117