Oral Hygiene Care at The Dental Junction
There are three essential components to having a healthy smile for life: brushing, flossing and your regular appointments at The Dental Junction. When you become our patient, we'll share our best tips with you to make sure that you show off a gorgeous smile for life. Below, you can read more about the proper techniques for brushing, flossing and our product recommendations.
Brushing your teeth twice a day is essential. You must also consider, however, how you're brushing your teeth. Use a soft or extra-soft brush so that it isn't abrasive to your teeth. If you scrub overzealously, you may contribute to gum recession and tooth wear. Use light pressure with the bristles angled towards the gumline. Make short strokes on 1-2 teeth at a single time. This method ensures that the plaque is cleaned from where the teeth meet, where plaque can easily gather.
Most people aren't brushing for long enough. You should brush your teeth for two minutes each time that you do so. Set a timer on your phone or use a stopwatch to be sure you're reaching that time limit.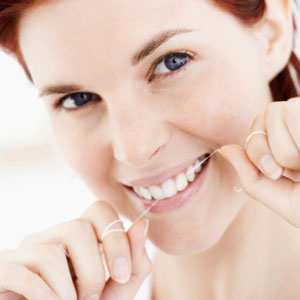 Flossing removes the plaque from surfaces that can't be reached with your toothbrush. When you floss, you should wrap around each tooth in a "C" shape, sliding it up and down. Be sure that you reach just under the gums and go between teeth several times. Make sure that you repeat the process between every tooth, particularly those in the back of your mouth.
If you notice that your gums bleed, it may be due to infrequent flossing. You might have the early signs of gum disease. This stage is called gingivitis and can advance to periodontal disease if it's not addressed quickly. Keep flossing and brushing regularly and it should go away within a couple of weeks. If not, book an examination with us.
Do you have specific concerns? You may have noticed a buildup of tartar, tooth sensitivity or stained teeth. Each of these can be addressed by using a fluoridated toothpaste. Be sure to read the label and you can select the one you require.
Visit Our Practice Today
Are you due for a checkup? Contact The Dental Junction today to schedule an exam or for oral hygiene care and advice Noosa Heads.
CONTACT US
* Any surgical or invasive procedure carries risks. Before proceeding, you should seek a second opinion from an appropriately qualified health practitioner.

Oral Hygiene Noosa Heads, Noosaville, Sunshine Beach, Sunrise Beach QLD | (07) 5473 5117