Teeth Whitening at The Dental Junction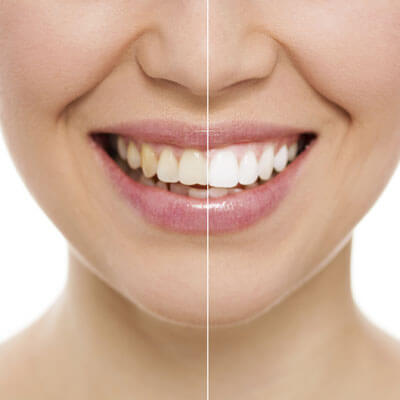 Have you looked in the mirror recently and wondered why your teeth aren't quite as bright as they used to be? At The Dental Junction, we help people every day who want to achieve a whiter smile. You can look your best, feel confident and make an excellent first impression with a simple teeth whitening procedure.
Our clinic provides you with two different types of whitening procedures. You can choose whether you would like to have it completed on-site or in the comfort of your home.
Get Gorgeous Results With In-Chair Teeth Whitening
If you have an upcoming event or don't want to wait to see results, in-chair whitening may be ideal for you. You can see a change in several shades in a simple hour-long visit. We'll apply the whitening gel, then accelerate the process with a specialised light. You'll leave our clinic with your dazzling new smile.
An Effective Take-Home Whitening Kit
Not in a rush? You may find our take-home kits are more suitable for your needs. You'll have trays custom-created in our clinic. At home, you'll fill each tray with the bleaching gel, then wear them for an hour. Within a couple of weeks, you'll have the full results. You can keep your trays so that your whitening can be topped up as needed.
Why Do Teeth Discolour?
Our teeth were made to last for our lifetime. There are several things, however, that can affect their health. Staining is commonly caused by
Certain medications such as tetracycline
Tobacco use
Red wine, coffee and tea
Staining foods such as berries
The ageing process
If you would like your whitening to last as long as possible, avoid dark liquids and foods that can stain your teeth.
Our Superior Products
Though you can buy a kit at the chemist to whiten your teeth, the whitening solution used is weaker. We can provide you with professional-grade whitening that will give you luminous results. Contact us today to schedule a visit for teeth whitening Noosa Heads!
CONTACT US
* Any surgical or invasive procedure carries risks. Before proceeding, you should seek a second opinion from an appropriately qualified health practitioner.

Teeth Whitening Noosa Heads, Noosaville, Sunshine Beach, Sunrise Beach QLD | (07) 5473 5117